PROFILE...
SPARKEM founded in 1993 and is now emerge as a leading manufacturer and exporter of the Organic Pigments both in domestic market as well as globally. Earlier, Sparkem had two units at Ankleshwar and Ahmedabad but later it has been merged at Ahmedabad as Single large Unit to operate efficiently. This unit has unique state of the art technology plant with capacity of 300 MT per annum of Organic Pigments as well as well equipped Quality Control Lab. Sparkem turn out to be fame unit in very short time due to competence staff, technical Know-how in the field of Organic Pigments. The company has also tie up with other Associated Companies for AZO Pigments to fulfill requirements of clients from one single unit.
Sparkem Pigments
Office: 9, Bank of Baroda Society, Nava Vadaj,
Ahmedabad - 380 013. INDIA

Factory: Plot No. 3420, Phase IV,
GIDC Vatva, Ahmedabad - 382 445. Gujarat - INDIA
Phone :+91 - 79 - 27644508 Fax :+91 - 79 - 27645964
Mail:
sparkem@sparkempigments.com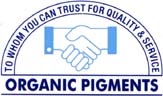 Sparkem Pigments... Manufacturer & Exporter of Quality "PIGMENTS" for different Applications.

SparkCoat : Pigments for Paint & Coats

SparkPlast : Pigments for Plastic

SparkPrint : Pigments for Printing Ink
SPARKEM PIGMENTS - INDIA - ALL RIGHTS RESERVES.