PRODUCTS...
Sparkem Pigments...
Manufacturer & Exporter of Quality "PIGMENTS" for different Applications.
SparkCoat : Pigments for Paint & Coatings
SparkPlast : Pigments for Plastic
SparkPrint : Pigments for Printing Ink
Click for the information Related to Organic Pigments, Phthalocyanine pigments, Pigment Powder, Organic, Pigments, Azo Pigments, Pigments manufacturer, Pigments Producer, Color Pigments, Pigments for Printing, ink Pigments, Pigments for Paints, coat Pigments, Pigments for Plastic, Plastics Pigments, Organic Pigment, sparkem, Pigments Manufacturer in Ahmedabad, Gujarat India.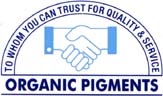 Sparkem Pigments
Office: 9, Bank of Baroda Society,
Nava Vadaj,
Ahmedabad - 380013 INDIA

Factory: Plot No. 3420, Phase IV,
GIDC Vatva, Ahmedabad
Pin: 382445 Gujarat - INDIA
Phone : +91 - 79 - 27644508
Fax : +91 - 79 - 27645964
SPARKEM PIGMENTS - INDIA - ALL RIGHTS RESERVES.